The Basis For W P C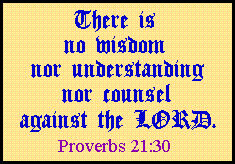 People who are looking for a counselor are looking for practical answers for difficult situations. They usually already have tried numerous ways that have not worked, and they want something that will change their lives. I do Bible-based counseling because the Bible is practical, showing both cause and effect and is our Instruction Manual for living.
---
It can change your life!
---
The Bible speaks to every issue of life. From a standpoint of logic, the God who has created us also knows how to fix our broken lives. He has given us His Word (the Bible) for a manual to live by. "All scripture is given by inspiration of God, and is profitable for doctrine, for reproof, for correction, for instruction in righteousness: That the man of God may be perfect (complete), throughly furnished unto all good works" (II Timothy 3:16-17). Furthermore, we should understand that all true counsel must agree with God's Word. "There is no wisdom nor understanding nor counsel against the LORD" (Proverbs 21:30). If the counsel that one receives does not agree with God's Word, it will bring more harm than good. God's Word also has been tested and found to be true. "The words of the LORD are pure words: as silver tried in a furnace of earth, purified seven times. Thou shalt keep them, O LORD, thou shal preserve them from this generation for ever" (Psalm 12:6-7).
The law of the LORD is perfect, converting the soul: the testimony of the LORD is sure, making wise the simple.
The statutes of the LORD are right, rejoicing the heart: the commandment of the LORD is pure, enlightening the eyes.
The fear of the LORD is clean, enduring for ever: the judgment of the LORD are true and righteous altogether.
More to be desired are they than gold, yea, than much fine gold: sweeeter also than honey and the honeycomb.
Moreover by them is thy servant warned: and in the keeping of them there is great reward. (Psalm 19:7-11).

The following subjects and Scriptures are given for examples. They are far from being complete or covering all the factors concerning any one issue.

If you have a problem with depression.
Isaiah 61:3 To appoint unto them that mourn in Zion, to give unto them beauty for ashes, the oil of joy for mourning, the garment of praise for the spirit of heaviness; that they might be called trees of righteousness, the planting of the LORD, that he might be glorified.
If you have a problem with work-addiction (obsessive compulsive).
Matthew 11:29 Take my yoke upon you, and learn of me; for I am meek and lowly in heart: and ye shall find rest unto your souls.
If you have a problem with learning (attention deficit disorder).
Psalm 119:130 The entrance of thy words giveth light; it giveth understanding unto the simple.
If you have a problem with fears (phobias).
Psalm 34:4 I sought the LORD, and he heard me, and delivered me from all my fears.
If you have a problem with taking up offenses.
Psalm 119:165 Great peace have they which love thy law: and nothing shall offend them.
If you have a problem with being a failure.
Joshua 1:8 This book of the law shall not depart out of thy mouth; but thou shalt meditate therein day and night, that thou mayest observe to do according to all that is written therein: for then thou shalt make thy way prosperous, and then thou shalt have good success.
If you have a problem with people being your enemies.
Proverbs 16:7 When a man's ways please the LORD, he maketh even his enemies to be at peace with him.
If you have a problem with a physical disease.
Psalm 103:3 Who forgiveth all thine iniquities; who healeth all thy diseases.
If you have a problem with not getting enough sleep (insomnia).
Psalm 127:2 It is vain for you to rise up early, to sit up late, to eat the bread of sorrows: for so he giveth his beloved sleep.
If you have a problem with sorrow.
Isaiah 53:4 Surely he hath borne our griefs, and carried our sorrows: yet we did esteem him stricken, smitten of God, and afflicted.
If you have a problem with finding purpose for your life.
Psalm 138:8 The LORD will perfect that which concerneth me: thy mercy, O LORD, endureth for ever: forsake not the works of thine own hands.
If you have a problem with financial failure.
Proverbs 3:9-10 Honour the LORD with thy substance, and with the firstfruits of all thine increase: So shall thy barns be filled with plenty, and thy pressess shall burst out with new wine
If you have a problem dealing with shame and confusion.
Isaiah 61:7 For your shame ye shall have double; and for confusion they shall rejoice in their portion: therefore in their land they shall possess the double: everlasting joy shall be unto them.
If you have a problem finding direction for your life.
Psalm 119:105 Thy word is a lamp unto my feet, and a light unto my path.
If you have a problem with anxiety (anxiety disorders).
Philippians 4:6-7 Be careful for nothing; but in every thing by prayer and supplication with thanksgiving let your requests be made known unto God. And the peace of God, which passeth all understanding, shall keep your hearts and minds through Christ Jesus.
If you have maritial problems (incompatibility).
Psalms 127:1 Except the LORD build the house, they labour in vain that build it: except the LORD keep the city, the watchman waketh but in vain.
If you have a problem with anger (social relations).
Ephesians 4:31-32 Let all bitterness, and wrath, and anger, and clamour, and evil speaking, be put away from you, with all malice: And be ye kind one to another, tenderhearted, forgiving one another, even as God for Christ's sake hath forgiven you.
If you have problems with working with your boss.
Ephesians 6:5 Servants, be obedient to them that are your masters according to the flesh, with fear and trembling, in singleness of your heart, as unto Christ.
If you have problems forgiving others.
Colossians 3:13 Forbearing one another, and forgiving one another, if any man have a quarrel against any: even as Christ forgave you, so also do ye.
If you have a problem with generational curses (inherited addictions).
Exodus 20:5 Thou shalt not bow down thyself to them, nor serve them: for I the LORD thy God am a jealous God, visiting the iniquity of the fathers upon the children unto the third and fourth generation of them that hate me.
Galatians 3:13 Christ hath redeemed us from the curse of the law, being made a curse for us: for it is written, Cursed is every one that hangeth on a tree:
If you have a problem with drug or alcohol addictions.
Ephesians 5:18 And be not drunk with wine, wherein is excess; but be filled with the Spirit.
If you have a problem with spiritual bondage.
John 8:31-32 Then said Jesus to those Jews which believed on him, If ye continue in my word, then are ye my disciples indeed; And ye shall know the truth, and the truth shall make you free.
If you have a problem with emotional wounds and bruises to your identity.
Luke 4:18 The Spirit of the Lord is upon me, because he hath anointed me to preach the gospel to the poor; he hath sent me to heal the brokenhearted, to preach deliverance to the captives, and recovering of sight to the blind, to set at liberty them that are bruised,
If you have a problem with self-rejection (inferiority complex).
Psalm 139:13-17 For thou hast possessed my reins: thou hast covered me in my mother's womb. I will praise thee; for I am fearfully and wonderfully made: marvellous are thy works; and that my soul knoweth right well. My substance was not hid from thee, when I was made in secret, and curiously wrought in the lowest parts of the earth. Thine eyes did see my substance, yet being unperfect; and in thy book all my members were written, which in continuance were fashioned, when as yet there was none of them.
If you have a problem doubting the love of God.
John 3:16 For God so loved the world, that he gave his only begotten Son, that whosoever believeth in him should not perish, but have everlasting life.
If you have a problem with thoughts of suicide.
I Corinthians 6:19-20 What? know ye not that your body is the temple of the Holy Ghost which is in you, which ye have of God, and ye are not your own? For ye are bought with a price: therefore glorify God in your body, and in your spirit, which are God's.
If you have a problem with uncontolled thoughts (schizophenia).
II Corinthians 10:5 Casting down imaginations, and every high thing that exhalteth itself agains the knowledge of God, and bringing into captivity every thought to the obedience of Christ.
If you have a problem with worry.
Matthew 6:34 Take therefore no thought for the morrow: for the morrow shall take thought for the things of itself. Sufficient unto the day is the evil thereof.
If you have a problem getting a clear conscience.
Matthew 5:23-24 Therefore if thou bring thy gift to the altar, and there rememberest that thy brother hath ought against thee; Leave there thy gift before the altar, and go thy way; first be reconciled to thy brother, and then come and offer thy gift.
If you have a problem with disobedient children.
Proverbs 22:6 Train up a child in the way he should go: and when he is old, he will not depart from it.
If you have a problem with hearing from God.
John 10:27 My sheep hear my voice, and I know them, and they follow me.
If you have a problem obeying God.
I Corinthians 10:13 There hath no temptation taken you but such as is common to man: but God is faithful, who will not suffer you to be tempted above that ye are able; but will with the temptation also make a way to escape, that ye may be able to bear it.
If you have a problem being happy.
Proverbs 22:4 By humility and the fear of the LORD are riches, and honour, and life.
If you have a problem with sin.
Psalms 119:11 Thy word have I hid in mine heart, that I might not sin against thee.
If you have a problem finding God in your life.
John 5:39 Search the scriptures; for in them ye think ye have eternal life: and they are they which testify of me.
---

or