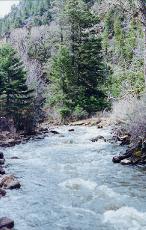 Streams
In The Desert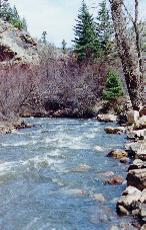 (Testimonies)
"Behold, I will do a new thing; now it shall spring forth; shall ye not know it? I will even make a way in the wilderness, and rivers in the desert" (Isaiah 43:19)

---
About the Whole Person Counseling site
In 1991, God gave me the verse in Isaiah 43:19 concerning a ministry that I would have out here in west Texas on the edge of the great American desert. At that time, I am sure that I had not even heard of the internet. In the first part of December 1996, I got a modem for my home computer to use for email to cut some long distance phone expenses. Then God spoke through a friend to suggest that I use the internet to offer the books that I had written. By March 1997, I was learning to write some HTML's.

Since then, various people who knew nothing about the prophetic word from God to me, began to email me. They would say that the site was like an oasis in the desert to one who was thirsty. This word has been confirmed on several occasions.

Basil Frasure
---
Hi, Just a note to tell you that your WEB page was so timely. After exploring it and reaping wonderful and helpful information, I phoned a friend who was on her way to pray for a very distraught woman. I told my friend about your counseling information, your book, etc. She was so
impressed that she called you. ...

Carol W.
---
Your page is loaded with help for people in need!!! Praise God!! I am a Certified Christian Counselor myself.

Trudy V.
---
I continue to read and re-read the material on you Web site, and they continue to be a source of strength and blessing for me. . . . The Lord has also use your writings to free me from the sins and tendencies to sin. My heart tells me I'm moving from believer to disciple.

Kerwin S.
---
When I read some of your articles on the web I felt like my spirit was going to jump out of my body. I wanted to be left alone to pray, pray, pray and pray. Your articles on Spiritual warfare and Angels were superbly written and practically excellent. I then felt reading this book (How To Destroy The Evil Tree) your book is not a question of may be but a must.

Bro 'Femi Oladipo
---
About the Evil Tree book
I would like to tell you how much I have been helped by your book The Evil Tree. God has been doing such a cleansing and deliverance work in me the last few weeks, I have/had an addictive personality, drug problems for years, nicotine but never really alcohol. God delivered me from that and then through my complete surrender to Him he has been gradually showing me the reasons behind my actions. Looking to other people for reassurance, stuggling to compete and be better than everybody else, lack of self-esteem and trust and a feeling of not being worthy to be loved. So
many things I had bottled up inside me. I have been a Christian for five years and only now do I truly feel born-again - a new creation in Christ. Praise God!

Yesterday I finally remembered things from my childhood - my father sexually abusing me, and my mother's seeming lack of concern. I was shown that this was the root cause of all my problems.

The funny thing is, this all started when I was doing a University course on Psychology and Film Studies. Jung fascinated me and reinforced my faith and belief in God. Then all these things from my unconscious started re-emerging. A sort of individuation process, but with God as my strength and guide (perhaps)? I'm nearly 42.

It was very difficult, but I believe He led me to your web page and your book. I drew my evil tree, and following your steps was released from the generational curses and there were plenty I have to say. The Holy Spirit just kept bringing them to mind and I didn't really know my grandparents on either side. Now I'm standing on the word, increasing my faith, trusting in God's love and every day asking for more of His Holy Spirit - my comforter and friend.

So thank you and I pray that God continues to bless you in the great work you are doing in His name.

I am totally released now, it's all over and my faith is increasing day by day.

Your sister in Christ
Michelle
---

Having recently started a "renewed" journey in my walk with God, I have found you book reassuring and a great benefit in helping me to overcome my greatest fear - repeating the past.

Jeff W.
---
I was delighted to receive the actual book copy so I could send to my daughter in Dallas. I told her all about you and your book, and again, the timing was perfect. She had been going through some tremendous spiritual oppression to the point that she was exhausted. Her dad was killed in an airplane crash when she was seven years old, and the Holy Spirit revealed to us that she needed to forgive her father for "leaving" her. She also felt rejection and fears that we believe stemmed from the loss of her father. We prayed through her forgiveness of her father, and as a result of your Evil Tree diagram and explanation, we both learned a lot about why we have had some yuck in our lives. Praise God that his timing is so perfect...And thank you for being so giving on your web site of all the information readily available. It was so helpful and will continue to be as we pray in our personal lives, but also as we minister to others. May God richly bless you for your work and your obedience.

Carol W.
---

I have read your book and it has been of significant help to me. The day I downloaded the manuscript, I suffered from severe chest pains. If felt that it was not serious, but I felt terrible. Several times, I thought about going home to bed, but my job was demanding and I "tuffed" it out. That evening, Juli and I began to a study of your book, but only after we prayed and I bound the spirit(s) that afflicted me. Less than 20-30 minutes into our study, I realized that I no longer felt the pain or the physical discomforts that had plagued me. Over the next week I began to feel much better physically and emotionally. I do not feel that my depression is over--but I fell that I have a better understanding of my situation.

Michael C.
---
I can barely see through my tears of joy and relief to write this not of gratitude to you. "The Evil Tree" is the most practical and extraordinary example of preaching and teaching that I have experienced in my 56 years, and the Spirit led me to it when I was at the end of my rope. What an amazing blessing!

My father died at age 53 of complication of alcoholism. I inherited his addictive personality. While I could never answer "yes" to enough of the AA questions to qualify as an alcoholic, I was addicted to the stuff until this July, when I read--at one sitting--"How To Destroy The Evil Tree."

There have been times in the past when I have abstained form alcohol for three or four month through sheer will power. I always gave in. Now I am not abstaining any longer. There's not a drop of will power involved. As far as I'm concerned, the Lord has worked a miracle in me. I submitted my life totally to him, and I no longer have a desire for alcohol.

Back in April, I had asked my your prayer partner, Greg, to pray about alcohol's grip on me. Of course, I was praying about it too. But it too the way that you present the Word in your wonderful writing to finally make me realize that the victory had already been won for me on the Cross and that I simply had been believing Satan's lie. When I did as your suggested and read Romans 6 aloud in the first person, the Spirit took over in my life, and I walked out of the open prison door.

I began on that day to keep the kind of journal you suggest and to memorize and meditate on the Word. It's a whole new life . . . moving form believer to disciple.

Kerwin S.
---
I just completed reading the evil tree. There was information about generational curse that I'd not read before. Filling out the diagram was particularly helpful. I will probably recommend other people to it as well. Your depth of knowledge and insight is evident in your web site. I can also see that you have a spiritual depth and stability that not all ministries can claim.

Amy K.
---
Dear Dr. Frasure, I greatly appreciate your book on the web. The Lord has been teaching a dear friend of my in Christ about some of these principals. We have both been believers a long time and have seen many battles but no sustained victory. The iniquities that are present in each of us has been the focus of what my friend has been taught by the Lord. We are now praying and asking the Lord the reveal and remove these in our lives and our families. We are following the principals you have laid down in your book. It seems to be working not only with us but with our families as well. When we experience a situation instead of reacting to the person we are commiting it to God and praying about the root that has caused. It has been a blessing to find this on your site. ....By the way my husband is down stairs reading your book. I can't think of any book he has ever read. I took the liberty of sending your site to several friends. We are all tired of living a life in Christ with little victory.

Bless you, Terry S.
---
I have not finished the books, but what I have read so far is a blessing, and I will not send them back (just kidding). The books will bless anyone reading them. [ref. to How To Destroy The Evil Tree and Bringing Every Thought Captive].

Bobby D.
---
I obtained one of your books on the "Evil Tree." The ladies from a friends Church had a Ladies retreat and we used some of your material. I had some material on the Evil Tree. But we drew a blank tree and used yours as an example and looked at the different issues we were dealing with and formed our own tree.

We prayed to break the various strongholds. There was much deliverance. A pastor was there that was delivered of fear and the stronghold of fear. Most of the ladies had not read or heard of the material.

Sarah A.
---
If you have received a blessing from this site or have any comments please contact me.
Basil Frasure, Ph.D.
---