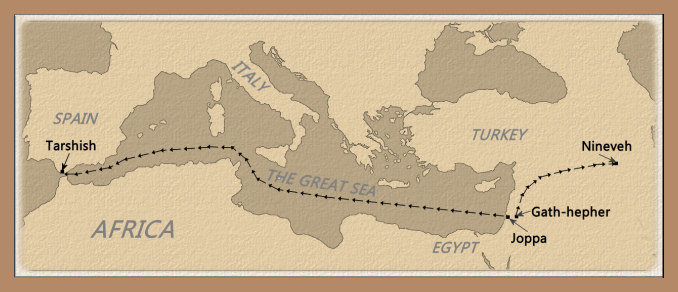 God's Goodness Demonstrated
In The Book of Jonah
---
I. Some basic factors:
A. Gath-hepher is Jonah's home town.
B. Nineveh is a city of 120,000 people (It would take 3 days for a person to walk around it's perimeter with a person walking about 20 miles per day).

C. It is about 500 + miles to Nineveh from Gath-hepher.
D. It is about 60 miles to Joppa from Gath-hepher.
E. It is about 2,000 + miles from Joppa to Tarshish located on the tip of Spain.
F. We don't know at what point on the trip the storm came, Jonah was thrown overboard, and the large fish swallowed him.
G. We don't know what kind of big fish swallowed Jonah, but possibly a sperm whale, a great white shark, or some other unknown species..

H. We don't know exactly where the fish traveled and vomited out Jonah on shore.
I. We do know that Jonah was in the belly of the fish for three days and three nights.
II. Several things to see in the book of Jonah.
A. When Jonah ran from God he went down, down, down, down, down, down, and down.

1. He went down to Joppa.
2. He went down into the ship.
3. He went down into the sides of the ship.
4. He was thrown overboard down into the sea.
5. He was swallowed by the fish and went down into the belly of the fish.
6. He was taken by the fish down to the bottom of the mountains in the sea.

B. God kept on intervening throughout the book: Jonah 1:1-2, 4, 16, 17, 2:10, 3:1, 10, 4:4, 6, 7, 8, 10-11.

C. We can see that God desires to show His goodness even before we repent.

III. Why did God speak to Jonah to go to preach to the city of Nineveh???
A. We should understand that Nineveh was a very evil city.
B. The Ninevites were the enemy of God's chosen people.
C. From Jonah perspective, God could have justifiably destroyed the city because of it evil deeds.
D. However, in God's goodness, He wanted to warn them so that they could repent, turn from evil ways, and receive the grace of forgiveness.
E. In contrast, Jonah only saw the Ninevites as evil. Therefore, Jonah, though being a committed prophet of God, ran from God and from the word of God.
IV. Even in the midst of Jonah's rebellion to God, God continues to intervene in the life of Jonah.
A. God sent out a great wind that could have destroyed the ship and the pagan mariners, but God was not out to destroy the men on the ship or Jonah. The storm was meant to
arrest
Jonah.
B. In desperation and by the instructions of Jonah, the shipmen threw Jonah overboard.
C. God stopped the storm to show His goodness to the mariners that they might seek God and to worship Him.
"
Or despisest thou the riches of his goodness and forbearance and longsuffering; not knowing that the goodness of God leadeth thee to repentance?

" (Romans 2:4).

D. Furthermore, even in Jonah's rebellion and suicidal actions, God prepared a great fish to swallow Jonah and to save him from drowning in the sea.

E. After three days in the belly of the fish, Jonah realized the goodness of God toward himself and gives thanksgiving to God and renews his commitment, at least to some extent.

F. God also shows His goodness by intervening to cause the fish to vomit out Jonah on dry ground.

G. With God still having His goodness in mind toward the Ninevites, He again commissions Jonah to go and warn the Ninevites and giving them forty days to repent..

H. Jonah respond by only preaching the judgment of God's and the destruction of Nineveh, but says nothing whatsoever about God's goodness (mercy and grace).

I. However,
the Ninevites,
not even knowing of God's goodness, repent of their evil deeds.


J. God in His goodness also shows His GOODNESS toward them and does not destroy them.

K. However, Jonah failed to accept the goodness of God which God showed to the Ninevites. The result was that Jonah became very angry and complained to God.

L. Jonah even says that he knows of God's goodness.


"

And he prayed unto the LORD, and said, I pray thee, O LORD, was not this my saying, when I was yet in my country? Therefore I fled before unto Tarshish: for I knew that thou art a gracious God, and merciful, slow to anger, and of great kindness, and repentest thee of the evil

" (Jonah 4:2). If he knew it, why didn't he preach it to Ninevah???

M. Jonah in his despair and anger asks that God would just take his life.

Suicidal thoughts are often the result of anger turned inward to self

.

N.
Again, God intervenes to show His goodness to Jonah by confronting him and asking Jonah if his anger is doing him any good, but Jonah doesn't respond .
*** When we don't see and respond to God goodness, we may well respond in anger toward God, toward others, or toward self.

O. Next, Jonah isolated himself and sat down outside the city that he, mostly likely, might still see God destroy Ninevah.

P. Again, God, in His goodness, has a gourd vine to grow up over the head of Jonah to give him some shade.

Q. Jonah is glad for the goodness of the gourd vine for himself, but remained angry that God had showed His goodness toward Ninevah.

R. Again, God intervenes to cause a worm to eat the gourd vine and also brought a very hot sun and East wind upon Jonah. Again, this is not to destroy Jonah, but to teach him about the importance of God's goodness.

S. Jonah, not fully seeing the goodness of God, became even

more

angry

and even more wishing himself to die.

T. God reasons with Jonah by asking the question of why shouldn't He show His goodness toward the many people in Ninevah and much cattle which are much more important that the goard vine.

U. This is the end of the book. However, it raises the question to us, "Are we receiving the goodness and are we willing to share that goodness with others, even our enemies?"


V. Some Scriptures to consider:
"
And he said, I will make all my

goodness

pass before thee, and I will proclaim the name of the LORD before thee; and will be gracious to whom I will be gracious, and will shew mercy on whom I will shew mercy
" (Exodus 33:19).
"
And now, O Lord GOD, thou art that God, and thy words be true, and thou hast promised this

goodness

unto thy servant
" (II Samuel 7:28).
"
Surely

goodness

and mercy shall follow me all the days of my life: and I will dwell in the house of the LORD for ever
" (Psalms 23:6).
"
He loveth righteousness and judgment: the earth is full of the

goodness

of the LORD
" (Psalms 33:5).
"
Oh that men would praise the LORD for his

goodness

, and for his wonderful works to the children of men!
" (Psalms 107:8). (This statement is repeated in verses 15, 21, and 31 of this chapter.)
"
For he satisfieth the longing soul, and filleth the hungry soul with

goodness
" (Psalms 107:9).
"
My

goodness

, and my fortress; my high tower, and my deliverer; my shield, and he in whom I trust; who subdueth my people under me
" (Psalms 144:2).
"
For how great is his

goodness

, and how great is his beauty! corn shall make the young men cheerful, and new wine the maids
" (Zechariah 9:17).
"
And I myself also am persuaded of you, my brethren, that ye also are full of goodness, filled with all knowledge, able also to admonish one another
" (Romans 15:14).
"
(For the fruit of the Spirit is in all
goodness
and righteousness and truth;)
" (Ephesians 5:9).
"
Wherefore also we pray always for you, that our God would count you worthy of this calling, and fulfil all the good pleasure of his

goodness

, and the work of faith with power
" (II Thessalonians 1:11).
---
http://www.wholeperson-counseling.org/grace/grace_menu.html
---