Reigning By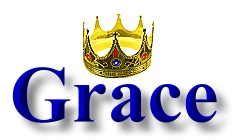 ---
Basic Scripture: Romans 5:13-21.

Focus Scripture: "That as sin hath reigned unto death, even so might grace reign through righteousness unto eternal life by Jesus Christ our Lord" (Romans 5:21).
---
For there to be a KINGDOM one must have a king who reigns. Jesus is that KING! Jesus is the only way for one to enter the kingdom of God. One must by faith yield his life to Jesus as his King or Lord. Then Jesus makes the Believer to be a king under the KING. "And from Jesus Christ, who is the faithful witness, and the first begotten of the dead, and the prince of the kings of the earth. Unto him that loved us, and washed us from our sins in his own blood, And hath made us kings and priests unto God and his Father; to him be glory and dominion for ever and ever. Amen" (Revelation 1:5-6). If you are a Believer, then you are a king under the authority of the KING, Jesus.
---
The Law says that you must perform:
1. You must always put God first place in your life.
2. You must never pray before and idol.
3. You must not use God's name in vain.
4. You must not work on the Sabbath.
5. You must always obey your parents.
6. You must not do harm (murder) anyone.
7. You must not commit adultery.
8. You must not steal or cheat.
9. You must not lie about anyone.
10. You must not desire what belongs to another.
This is a summary of the Ten Commandments. Of course there are about 600+ other rules to cover the ten. The problem is that it is more than just the outward act, but the condition of the heart. Jesus said that if a man lust after a woman in his heart, he has already committed adultery. Bad news!

Two problems:
1. Man was not able and is not able to keep the law of himself. "As it is written, There is none righteous, no, not one" (Romans 3:10). This means that no one other than Jesus, the Son of God, had done what is right in the eyes of God. In fact, "But we are all as an unclean thing, and all our righteousnesses are as filthy rags; and we all do fade as a leaf; and our iniquities, like the wind, have taken us away" (Isaiah 64:6). Anything that we would do righteous to obtain right standing with God is compared to the blood stained under garments of a woman during her period.

a. We can't do it through good education. People in this scientific age know what is right but still choose the wrong.
b. We can't do it by "will power". Peter was determined saying that he would not deny Christ, but he did three times.
c. We won't do it simply through the right environmental influence.

2. God demands perfection by His own character.

a. "Thou shalt be perfect with the LORD thy God" (Deuteronomy 18:13).
b. "For whosoever shall keep the whole law, and yet offend in one point, he is guilty of all" (James 2:10).
c. Under the law man is only blessed when he is totally blameless. "Blessed are they that keep judgment, and he that doeth righteousness at all times" (Psalms 106:3).
The Consequences:
1. "For as many as are of the works of the law are under the curse: for it is written, Cursed is every one that continueth not in all things which are written in the book of the law to do them" (Galatians 3:10). God doesn't grade on the curve. If one doesn't keep every word of the Law, he falls under the curse. "Cursed be he that confirmeth not all the words of this law to do them. And all the people shall say, Amen" (Deuteronomy 27:26).

2. "But it shall come to pass, if thou wilt not hearken unto the voice of the LORD thy God, to observe to do all his commandments and his statutes which I command thee this day; that all these curses shall come upon thee, and overtake thee" (Deuteronomy 28:15). Again, one must do all (every single one) of His commandments or he would be subject to all the curses. A few are listed below.

a. Disease.
b. Poverty.
c. Barrenness.
d. Failure.
e. Divorce.
f. Indebtedness.
g. A broken home.
h. Defeat by the enemy.

3. Ultimately Death. "For the wages of sin is death; but the gift of God is eternal life through Jesus Christ our Lord" (Romans 6:23).

a. Foremost, the consequence was a spiritual death. "But of the tree of the knowledge of good and evil, thou shalt not eat of it: for in the day that thou eatest thereof thou shalt surely die" (Genesis 2:17). Of course this led to the physical death.
b. There is also the second death. "And death and hell were cast into the lake of fire. This is the second death" (Revelation 20:14).
GOOD NEWS!
"For the law was given by Moses, but grace and truth came by Jesus Christ" (John 1:17). The Law was "given", but grace and truth "came" in the person of Jesus Christ.

God is righteous and demands righteousness. Man, by his own efforts, could not and is not able to measure up the standards of God. Since God is the just Judge, justice must be carried out.

JUSTICE = Says that we must pay the penalty that we deserve as sinners.
MERCY = Says that we don't fully receive what the deserve.
GRACE = Says that we receive what we don't deserve.

Before God can offer mercy and grace, JUSTICE must be carried out! Jesus came and fulfilled every aspect of the Law. "Think not that I am come to destroy the law, or the prophets: I am not come to destroy, but to fulfil" (Matthew 5:17). Jesus was and is perfect, but he became a substitute for all our sins: past sins, present sins, and even future sins. Therefore, when he went to the cross, he took the full penalty of the wrath of God upon himself for "all" our sins, even our sin nature. "And he is the propitiation for our sins: and not for ours only, but also for the sins of the whole world" (I John 2:2). "Surely he hath borne our griefs, and carried our sorrows: yet we did esteem him stricken, smitten of God, and afflicted. But he was wounded for our transgressions, he was bruised for our iniquities: the chastisement of our peace was upon him; and with his stripes we are healed" (Isaiah 53:4-5).

Jesus is God's grace that came to us! We are therefore to REIGN by JESUS! "For if by one man's offence death reigned by one; much more they which receive abundance of grace and of the gift of righteousness shall reign in life by one, Jesus Christ" (Romans 5:17).

they | shall reign ,
\ \ \ in life \ by one
\ \ \ Jesus Christ
\ \ more
\ \ much grace ,
\ / \ abundance \ of
\ which | receive | / and
\
\ righteousness ,
\ gift \ of
\ the
Again, grace and truth "came" in the person of Jesus Christ. GRACE is the unmerited, the undeserved, favor of God. Allow me to give a simple illustration. One day I was walking around my neighborhood when I came across a large bug laying on his back. He was desperately kicking with all his feet trying to get turned over, but was unable to do so. I could have easily stepped upon him and killed him, but I decided to give him some grace but turning him over so that he could run away. He did NOTHING for me to deserve being turned back over, but I did it anyway. We do NOTHING to deserve and receive the Grace of God found in Jesus. We simply trust in Jesus as our Lord and God gives us GRACE (Jesus). In Jesus we receive even an abundance of grace and the gift of righteousness. In Jesus, we REIGN.

Grace is spelled "G R A C E".

[G] = GIFT of salvation.
1. It is a gift. It is free. It is not earned. We don't work for it. "For by grace are ye saved through faith; and that not of yourselves: it is the gift of God: Not of works, lest any man should boast" (Ephesians 2:-8-9). If we work for it, then it is no more a gift, but something that we have earned. We don't even have to "work" to keep it. Praise the Lord!

2. It is Salvation which covers every area of our lives.

a. We are saved from Satan's kingdom.

(1). We are saved from the eternal consequences of sin. "And to wait for his Son from heaven, whom he raised from the dead, even Jesus, which delivered us from the wrath to come" (I Thessalonians 1:10).
(2). We are saved from the power of sin. "For sin shall not have dominion over you: for ye are not under the law, but under grace" (Romans 6:14).
(3). We are justified, meaning it is just as though we have never sinned. "Wherefore the law was our schoolmaster to bring us unto Christ, that we might be justified by faith" (Galatians 3:24). Satan is the prosecuting attorney, but Jesus is our defense attorney. Satan brings accusations against us ... "you broke the law by .....", but the law was nailed to the cross. "Blotting out the handwriting of ordinances that was against us, which was contrary to us, and took it out of the way, nailing it to his cross" (Colossians 2:14). Therefore, Jesus declares, "I died for that." God, the Judge, then declares, "The case is dismissed."

b. We are saved and placed into the Kingdom of the Son of God.

(1) We become sons of God having a relationship with God.
(2) We become joint-heirs with Jesus (having an equal standing in relation to righteousness and an inheritance).

3. Jesus is the greater gift with other gifts inside the greater.

a. "And the Word was made flesh, and dwelt among us, (and we beheld his glory, the glory as of the only begotten of the Father,) full of grace and truth" (John 1:14).
b. "And of his fulness have all we received, and grace for grace" (John 1:16).
c. Jesus is God's big gift to us, but when we receive him, we also receive everything that he has. "He that spared not his own Son, but delivered him up for us all, how shall he not with him also freely give us all things?" (Romans 8:32). If someone gave you a cruise ticket, you would also receive all you could eat on board the cruise. Jesus is the gift of the cruise ticket. "But, beloved, we are persuaded better things of you, and things that accompany salvation, though we thus speak" (Hebrews 6:9). There are things which "accompany salvation".
[R] = RIGHTEOUSNESS of God.
1. The Jews sought their own righteousness by trying to keep the Law. "For they being ignorant of God's righteousness, and going about to establish their own righteousness, have not submitted themselves unto the righteousness of God. For Christ is the end of the law for righteousness to every one that believeth" (Romans 10:3-4).

2. We are to seek the righteousness of God. "But seek ye first the kingdom of God, and his righteousness; and all these things shall be added unto you" (Matthew 6:33).

3. Our sin is exchanged for the righteousness of Jesus. "For he hath made him to be sin for us, who knew no sin; that we might be made the righteousness of God in him" (II Corinthians 5:21).

4. Our righteousness comes by faith in Jesus. "Now to him that worketh is the reward not reckoned of grace, but of debt. But to him that worketh not, but believeth on him that justifieth the ungodly, his faith is counted for righteousness" (Romans 4:4-5). It is coming into right standing with God through faith in Jesus.

5. Abraham simply believed in God and God counted him as being righteous. "And he believed in the LORD; and he counted it to him for righteousness" (Genesis 15:6).

NOTE: We don' make a check list and do everything on the list to receive the BLESSINGS of God. We believe that we are blessed and are therefore compelled by the love of God to be obedient. Grace comes before and not after the good works. However, sometimes we have the tendency to get the cart before the horse.
[A] = ACCEPTED of God.
1. At the baptism of Jesus the Father spoke: "And lo a voice from heaven, saying, This is my beloved Son, in whom I am well pleased" (Matthew 3:17). Jesus was accepted of the Father. This was also demonstrated in that Jesus ascended to the Father. "Jesus saith unto her, Touch me not; for I am not yet ascended to my Father: but go to my brethren, and say unto them, I ascend unto my Father, and your Father; and to my God, and your God" (John 20:17). The Father could only receive the One who He had accepted.

2. We are also ACCEPTED in Jesus. "To the praise of the glory of his grace, wherein he hath made us accepted in the beloved" (Ephesians 1:6).

Illustration: Various Christian psychologists have come to link schizophrenia with legalist religious backgrounds of individuals. People give up trying to please others and become passive to the voices of the accuser. *** When we come to believe that by GRACE, we are accepted of God without good works, then:

a. We can receive ourselves with our failures. "For ye have not received the spirit of bondage again to fear; but ye have received the Spirit of adoption, whereby we cry, Abba, Father" (Romans 8:15).
b. We can also receive others with their failures even as Jesus received us. "Wherefore receive ye one another, as Christ also received us to the glory of God" (Romans 15:7).
c. We can receive boldness to come to the throne of God for help. "Let us therefore come boldly unto the throne of grace, that we may obtain mercy, and find grace to help in time of need" (Hebrews 4:16).

* Grace is the oil for the cogs of relationships with other people. We can't love others very well until we receive God's love for us. Why don't you give your wife a million dollars? You might say, "I would like to, but I don't have a million dollars." You must have the grace of love in order to give the grace of love. "As the Father hath loved me, so have I loved you: continue ye in my love" (John 15:9). How did the Father love Jesus? The Father demonstrated his love for Jesus in providing his identity, his affirmation, his direction, protection, his anointing, his power for miracles, and even the words which Jesus spoke. Jesus, in his love for us, provides all of these things for us.

Note: Spiritual discernment without GRACE becomes judgmentalism, but with GRACE becomes reconciliation and restoration.
[C] = CHRIST dwelling in us.
This means:

1. We are never alone. "I will not leave you comfortless: I will come to you" (John 14:18). It takes the fear of being alone.

2. We can't be rejected.

a. He can't deny living in us when he does live in us even though we have doubts. "If we believe not, yet he abideth faithful: he cannot deny himself" (II Timothy 2:13).
b. Nothing can separate us from the love of God. "For I am persuaded, that neither death, nor life, nor angels, nor principalities, nor powers, nor things present, nor things to come, Nor height, nor depth, nor any other creature, shall be able to separate us from the love of God, which is in Christ Jesus our Lord" (Romans 8:38-39).
c. The Believer will NEVER perish. "And I give unto them eternal life; and they shall never perish, neither shall any man pluck them out of my hand" (John 10:28).

3. Spiritual fruit comes naturally without effort.

a. Scripture: John 15:1-16. The fruit simply comes for the Believer through abiding (fellowshipping with Jesus and receiving his love).
b. Illustration: I am convinced that one major cause of manic depression cycles is trying to perform to please others so that they may accept you. When you feel accepted though your performance, then you have a tendency to move to the manic side, but when you don't feel accepted you move toward the depressive side. There may follow a brief time of rest, then the cycle starts over again. Fruit however is not forced! When we abide in Christ and Christ in us, the fruit comes naturally. "I am the vine, ye are the branches: He that abideth in me, and I in him, the same bringeth forth much fruit: for without me ye can do nothing" (John 15:5).
c. People often spend more time and energy worrying about performance than actually performing. Grace sets us free from worry to allow the Spirit to work through us.
[E] = EFFECTUAL working of His power.
SCRIPTURE: "Whereof I was made a minister, according to the gift of the grace of God given unto me by the effectual working of his power" (Ephesians 3:7). Looking at GRACE is like holding up a diamond to a strong light and looking at each of the different facets.

1. He gives us all things.

a. "He that spared not his own Son, but delivered him up for us all, how shall he not with him also freely give us all things?" (Romans 8:32).
b. "Blessed be the God and Father of our Lord Jesus Christ, who hath blessed us with all spiritual blessings in heavenly places in Christ" (Ephesians 1:3).
c. "And God is able to make all grace abound toward you; that ye, always having all sufficiency in all things, may abound to every good work" (II Corinthians 9:8).
d. "For all things are for your sakes, that the abundant grace might through the thanksgiving of many redound to the glory of God" (II Corinthians 4:15).

2. He gives us the power of the Holy Spirit to witness to others.

Scripture: Luke 11:1-13. "If ye then, being evil, know how to give good gifts unto your children: how much more shall your heavenly Father give the Holy Spirit to them that ask him?" (Luke 11:13). We as Believers are to go to our Father in Heaven and knock on His door in prayer and ask Him for the fullness of the Holy Spirit that we may share Jesus, the bread of life, with those sojourners who cross our paths.

3. He gives us gifts for ministry.

Scripture: "But unto every one of us is given grace according to the measure of the gift of Christ. Wherefore he saith, When he ascended up on high, he led captivity captive, and gave gifts unto men" (Ephesians 4:7-8). The gifts of the Spirit are listed in Romans 12. "Having then gifts differing according to the grace that is given to us, whether prophecy, let us prophesy according to the proportion of faith; Or ministry, let us wait on our ministering: or he that teacheth, on teaching; Or he that exhorteth, on exhortation: he that giveth, let him do it with simplicity; he that ruleth, with diligence; he that sheweth mercy, with cheerfulness" (Romans 12:6-8).

Scripture: "As every man hath received the gift, even so minister the same one to another, as good stewards of the manifold grace of God" (I Peter 4:10). Actually, the article for the modifier "the" is not in the original Greek language, thus it should be translated "a" gift. Therefore, each believer is given a gift.

4. He gives us healing.

Scripture: "Who his own self bare our sins in his own body on the tree, that we, being dead to sins, should live unto righteousness: by whose stripes ye were healed" (I Peter 2:24). This is physical as well as spiritual healing.

Scripture: "The Spirit of the Lord is upon me, because he hath anointed me to preach the gospel to the poor; he hath sent me to heal the brokenhearted, to preach deliverance to the captives, and recovering of sight to the blind, to set at liberty them that are bruised, To preach the acceptable year of the Lord" (Luke 4:18-19). There is also mental and emotional healing.

5. He gives us the ability to serve him.

Scripture: "But by the grace of God I am what I am: and his grace which was bestowed upon me was not in vain; but I laboured more abundantly than they all: yet not I, but the grace of God which was with me" (I Corinthians 15:10). He not only gives us the grace to be a child of God, He also gives us the grace to live as a child of God.

Scripture: "For it is God which worketh in you both to will and to do of his good pleasure" (Philippians 2:13). He gives us the "will" and the "power" to do of His will.

Scripture: "I can do all things through Christ which strengtheneth me" (Philippians 4:13). We, by his grace, can do anything that he asks us to do.

6. He gives us prosperity.

Scripture: "For ye know the grace of our Lord Jesus Christ, that, though he was rich, yet for your sakes he became poor, that ye through his poverty might be rich" (II Corinthians 8:9).

Scripture: "But my God shall supply all your need according to his riches in glory by Christ Jesus" (Philippians 4:19).

7. He gives us what we need to give to others.

Scripture: "And God is able to make all grace abound toward you; that ye, always having all sufficiency in all things, may abound to every good work" (II Corinthians 9:8). The context of this verse is that of giving.

Scripture: "Blessed be God, even the Father of our Lord Jesus Christ, the Father of mercies, and the God of all comfort; Who comforteth us in all our tribulation, that we may be able to comfort them which are in any trouble, by the comfort wherewith we ourselves are comforted of God" (II Corinthians 1:3-4).

Illustration: One major difference in the Dead Sea and the Sea of Galilee is that the Dead Sea has no outlet. We are not to be the Dead Sea! We are to receive the GRACE of God that we may share the GRACE of God with others. "He that believeth on me, as the scripture hath said, out of his belly shall flow rivers of living water" (John 7:38).
---
Thanks to Village Hat Shop for the original crown graphic
---

GRACE