a SEED produces much FRUIT
by the flow of life through the seed.

---

Jesus not only wants to live inside of you, and to be in your life, but He also wants to touch the lives of others through you.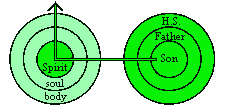 To be Fruitful, the Holy Spirit must have a free flow through your life.
But if it die, it bringeth forth much fruit. (John 12:24)

Be filled (continually) with the Spirit. (Ephesians 5:18)

If any man thirst, let him come unto me, and drink. He that believeth on me, as the scripture hath said, out of his belly shall flow rivers of living water (the Holy Spirit). (John 7:37-38)

The fruit of the Spirit is love, joy, peace, longsuffering, gentleness, goodness, faith, meekness, temperance: against such there is no law. (Galatians 5:22-23)