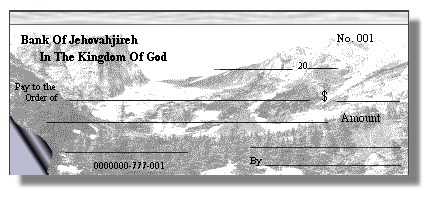 The Bank Of Jehovahjireh
---

Abraham called the place where God provided the ram for the sacrifice, "Jehovahjireh" which means, "I AM provider" or "God is seeing provides".
(Genesis 22:14)

---
THE ASSETS: (only a few listed).

1. Salvation. "Therefore with joy shall ye draw water out of the wells of salvation" (Isaiah 12:3).

2. Deliverance. "And he said, The LORD is my rock, and my fortress, and my deliverer" (II Samuel 22:2).

3. Healing. "Who forgiveth all thine iniquities; who healeth all thy diseases" (Psalms 103:3).

4. Wealth. "The silver is mine, and the gold is mine, saith the LORD of hosts" (Haggai 2:8).

5. Prosperity. "And his master saw that the LORD was with him, and that the LORD made all that he did to prosper in his hand" (Genesis 39:3).

6. Spiritual power. "And the spirit of the LORD shall rest upon him, the spirit of wisdom and understanding, the spirit of counsel and might, the spirit of knowledge and of the fear of the LORD" (Isaiah 11:2).

7. Authority. "For promotion cometh neither from the east, nor from the west, nor from the south. But God is the judge: he putteth down one, and setteth up another" (Psalms 75:6-7).
---

EVERYTHING is on deposit in God's bank, because He created all things. "In the beginning God created the heaven and the earth" (Genesis 1:1). "For by him were all things created, that are in heaven, and that are in earth, visible and invisible, whether they be thrones, or dominions, or principalities, or powers: all things were created by him, and for him" (Colossians 1:16). Every good thing comes from God! He is the "I AM" to meet every need. "And God said unto Moses, I AM THAT I AM: and he said, Thus shalt thou say unto the children of Israel, I AM hath sent me unto you" (Exodus 3:14). "Jesus said unto them, Verily, verily, I say unto you, Before Abraham was, I am" (John 8:58). Jesus is the "I AM" to meet every need.

---

EXPLANATION:

1. God, the Father, has given everything to the Son (Jesus). "All things that the Father hath are mine: therefore said I, that he shall take of mine, and shall shew it unto you" (John 16:15).

2. Every person who ask JESUS to be the LORD of his life becomes a son of God (John 1:12) and also becomes a joint-heir with Jesus. He receives "a joint checking account" with Jesus. "Wherefore thou art no more a servant, but a son; and if a son, then an heir of God through Christ" (Galatians 4:7). "And if children, then heirs; heirs of God, and joint-heirs with Christ; if so be that we suffer with him, that we may be also glorified together" (Romans 8:17). "That at that time ye were without Christ, being aliens from the commonwealth of Israel, and strangers from the covenants of promise, having no hope, and without God in the world: But now in Christ Jesus ye who sometimes were far off are made nigh by the blood of Christ" (Ephesians 2:12-13).

3. We now have the potential access to all that God has. "For all the promises of God in him are yea, and in him Amen, unto the glory of God by us" (II Corinthians 1:20). "Blessed be the God and Father of our Lord Jesus Christ, who hath blessed us with all spiritual blessings in heavenly places in Christ" (Ephesians 1:3). EVERY is on deposit! "Unto me, who am less than the least of all saints, is this grace given, that I should preach among the Gentiles the unsearchable riches of Christ" (Ephesians 3:8). There is so much we can even find it all!

4. We have access to the promises both in the Old Testament and the promises in the New Testament. "Then said he unto them, Therefore every scribe which is instructed unto the kingdom of heaven is like unto a man that is an householder, which bringeth forth out of his treasure things new and old" (Matthew 13:52). A good farmer can go into his barn and get both old grain and new grain.

5. The Son has given us the "power of attorney" to use His name, "JESUS", to make withdrawals. " Verily, verily, I say unto you, He that believeth on me, the works that I do shall he do also; and greater works than these shall he do; because I go unto my Father. And whatsoever ye shall ask in my name, that will I do, that the Father may be glorified in the Son. If ye shall ask any thing in my name, I will do it" (John 14:12-14). "Ye have not chosen me, but I have chosen you, and ordained you, that ye should go and bring forth fruit, and that your fruit should remain: that whatsoever ye shall ask of the Father in my name, he may give it you" (John 15:16). "And in that day ye shall ask me nothing. Verily, verily, I say unto you, Whatsoever ye shall ask the Father in my name, he will give it you. Hitherto have ye asked nothing in my name: ask, and ye shall receive, that your joy may be full" (John 16:23-24). Jesus will do whatever we ask in HIS NAME, and the Father will give whatever we ask in the Name of JESUS. Jesus also stated, "Again I say unto you, That if two of you shall agree on earth as touching any thing that they shall ask, it shall be done for them of my Father which is in heaven. For where two or three are gathered together in my name, there am I in the midst of them" (Matthew 18:19-20).

6. The Bible (God's WILL) is the only limitation to the amount of the check. God desires TO BLESS us in proportion to our spiritual growth. "Beloved, I wish above all things that thou mayest prosper and be in health, even as thy soul prospereth" (III John 1:2). "But seek ye first the kingdom of God, and his righteousness; and all these things shall be added unto you" (Matthew 6:33). "And he sought God in the days of Zechariah, who had understanding in the visions of God: and as long as he sought the LORD, God made him to prosper" (2 Chronicles 26:5).

7. Faith in Jesus based upon the Word is the power of appropriation. FAITH is the substance (title deed) to the things hoped for. "Now faith is the substance of things hoped for, the evidence of things not seen" (Hebrews 11:1). FAITH is also the evidence (proof) of the things not seen. "And Jesus said unto them, Because of your unbelief: for verily I say unto you, If ye have faith as a grain of mustard seed, ye shall say unto this mountain, Remove hence to yonder place; and it shall remove; and nothing shall be impossible unto you" (Matthew 17:20). "But without faith it is impossible to please him: for he that cometh to God must believe that he is, and that he is a rewarder of them that diligently seek him" (Hebrews 11:6).

---

KEY for withdrawals:

Almost every PROMISE of God has certain requirements that one must meet before he can receive the promise; however, God gives the Believers GRACE (divine ability) ( I Corinthians 15:10, Hebrews 12:28) which, if acted upon, will enable them to obey the Word and fulfill the requirements. "There hath no temptation taken you but such as is common to man: but God is faithful, who will not suffer you to be tempted above that ye are able; but will with the temptation also make a way to escape, that ye may be able to bear it" (I Corinthians 10:13). A Believer always has God's ability to do what is right no matter what the situation is.

MEANS OF RECEIVING:

1. Pray regularly (daily) with a believing prayer-partner.
2. Read, study, memorize, and meditation on God's Word.
3. Worship regularly with other Believers.
4. Fellowship with true practicing Believers.

INSTRUCTIONS FOR COMPLETION OF THE CHECK:

1. Put your name in the blank (Pay to the order of).
2. Fill in your true need and be specific (Amount).
3. Sign the check with the name "JESUS" with your name under it.
4. Believe until you receive. (Matthew 21:21).
5. Give God thanks before you receive your blessing, (Jonah 2:7-10, Philippians 4:6).
6. Obey the Word of God in faith. (Deuteronomy 28:1-68).
7. Expect God to reward your obedience. (Hebrews 11:6).
---