Why I am a Christian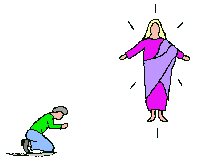 ---

You should know that a Christian is a follower of Christ, the Anointed one of God.
---
To begin, I know in truth that I have done wrong either by action, word, attitude, or thought. I know that I could undo nothing to make up for the evil that was in me. Who can undo a crime that has been committed? Who can retract a hurtful word that has been spoken? Who can unthink an evil thought that has been entertained? I also know that I could do nothing to change myself.

However, I came to understand that God, the sole Creator, loved me enough to send His own Son, Jesus into the world that he might take on the nature of humanity, being born of the virgin, Mary and live a life of perfect obedience before the Father that he might become the substitute for my sins and the sins of the world. Jesus exhibited his love for me by dying in my place upon the cross and spending three days in hades (hell) taking the full punishment for my sins, before being resurrected and ascending back into heaven. Jesus made peace with the Father on my behalf, that through faith in Jesus, I might receive peace, life, purpose, and joy.

Therefore, I made a faith commitment unto Jesus as my Lord and Saviour. I now know that God has through my faith in Jesus redeemed my life from that life of sin (evil) and has made me a new person inside in the spirit-man. Where I once was dead on the inside, He has made me alive, alive to Him. Jesus has given me eternal life, a life of such quality that it will never perish but will last forever. I received salvation, not based upon my righteous acts, but upon the righteousness of God in Jesus. Therefore, I know that nothing can separate me from God's love.

Now, I have a relationship with the Father being both His adopted (chosen by Him) child and His child by spiritual rebirth. I not only have a relationship with the Father, the Creator, but also have a daily fellowship with Him, with Jesus, and with the Holy Spirit. I know that God is a person who created me that He might have a relationship with me and a fellowship with me for His pleasure. I know that He loves me, protects me, and cares for me. I talk to Him and He talks to me. Even when I act as a disobedient child and He disciplines me, I still know that He never stops loving me.

He also gives me grace (His unmerited ability) to live a righteous life here and now as I choose to accept it. He has also given me His Word to guide me in making daily decisions, to build me up in my faith, and to energize my life. He stands behind all the promises of His Word (the Bible). His Word is true. It never ever fails. He has also given me of His Holy Spirit to teach me and direct me into all truth.

He has promised me a home adjoining His home in Heaven. Jesus has gone and prepared that place for me there. I look forward to spending eternity in Heaven with God where He rules in perfection and there is no more dying, sorrow, pain, or crying. I know that He will greet me with open arms the day that my body dies.

He sends His holy angels to minister to me and also to protect me from the demons of the evil one. He works all things in my life together for my personal good and for His glory. He takes personal pleasure in blessing my life. He gives me a love for others which are unlovable in the natural. After all He loved me when I was unlovable.

He works all kinds of daily miracles (something that only God can do) in my life and through my life as I minister His Word to others. I see emotional wounds healed, those under demonic control set free, and those who are depressed find joy and purpose. I also see those diagnosed with terminal illnesses healed. He answers my prayers with His love, mercy, and grace.

Yes, Jesus gives me purpose and meaning in life and the ability to fulfill it. His Word has given me the power to overcome both the world and the evil one, Satan, the deceiver. His joy gives me strength to live a joyful life day by day.

---

Now allow me to ask you a question , "How shall we escape, if we neglect so great salvation; which at the first began to be spoken by the Lord [Jesus], and was confirmed unto us by them that heard him" (Hebrews 2:3).
---

Associated links:
Find Life, Purpose, Joy
Searching For Truth
Especially For Children
How To Get To Heaven From San Angelo, Texas
---