---
ILLUSTRATIVE PREVIEW SCROLL


Instructions: Left Click anywhere to

start

or to

stop

scroll. Use bracket key "

]

" to speed up scroll or "

[

" to slow down the scroll. You may also click on any of the

links

at any time. It takes approximately 10 min. to view the entire scroll, but I think that it is well worth your time.
Man is a is spiritual being that has a soul,
and lives in a house of the body.
"And the very God of peace sanctify you wholly; and I pray God your whole spirit and soul and body be preserved blameless unto the coming of our Lord Jesus Christ" (I Thessalonians 5:23).
---
*** Wisdom is seeing from God's view point. "Wisdom is the principal thing; therefore get wisdom: and with all thy getting get understanding" (Proverbs 4:7).
---
To resolve addictions, we must get to the root causes for the addictions so that we can put out the fire that keeps one upset and seeking ways to escape from reality through drugs, sex, work, or alcohol. https://www.wholeperson-counseling.org/addictions/addictions_illustrated.html
---
Anger normally comes from holding on to personal rights which we have yet to yield to God. We become angry when we are in danger of those rights being violated or when they have been violated. https://www.wholeperson-counseling.org/anger/holding_on_to_rights.html
---
The Wounded Heart
Definition: A wounded heart occurs when someone or something brings hurt to your emotions. "The words of a talebearer are as wounds, and they go down into the innermost parts of the belly" (Proverbs 26:22). Although time does not heal our emotional wounds, Jesus came to heal the broken hearted. Jesus is not only our sin substitute, but he is also our emotional wound substitute. https://www.wholeperson-counseling.org/doc/wound-h.html
---
Depression begins with a thought, but leads to a attitude, then to a way of life, and then to a depressed immune system, and then abnormalities in the brain. "For as he thinketh in his heart, so is he: Eat and drink, saith he to thee; but his heart is not with thee" (Proverbs 23:7).
---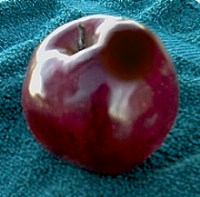 A bruised apple gives us a picture of emotional bruises. Emotional bruises are blows to an individual's identity. Example: You are stupid ... you are lazy ... you can't do anything right! Emotional bruises are like carrying a ball and chain around with you where ever you go. The good news is that Jesus came as a tender plant and suffered emotional bruises that we might be set free from them.
https://www.wholeperson-counseling.org/ndoc2/bruised.html
---
A barbed wire fence post is a great picture of an "approval addiction". An approval addiction occurs when we seek the approval of men more than we seek God. "The fear of man bringeth a snare: but whoso putteth his trust in the LORD shall be safe" (Proverbs 29:25). We get all tangled up in bondages through an approval addiction.
https://www.wholeperson-counseling.org/addictions/approval_addiction.html
---
What does an open door illustrate??? The open door represents different ways that the enemy may enter into our lives. I have discovered at least 13 different doors which the enemy may enter:
1. Unforgiveness. 2. Anger. 3. Temptation. 4. Infatuation. 5. Fear, worry, anxiety. 6. Negative thoughts. 7. Stubbornness. 8. An unbridled imagination. 9. Intrusion. 10. Invitation. 11. An empty mind. 12. Generational curses. 13. Word curses. https://www.wholeperson-counseling.org/warfare/enemy_methods.html
https://www.wholeperson-counseling.org/door/open.html
---
The Old Testament Tabernacle gives a good picture of man with Outer Court being the body, the Holy Place being the soul, and the Holy of Holies being the spirit. There is also the East Gate, and the two veils which also have meaning for us today. "What? know ye not that your body is the temple of the Holy Ghost which is in you, which ye have of God, and ye are not your own?" (I Corinthians 6:19). https://www.wholeperson-counseling.org/ministry/heart_entrance.html
---
***If we place our identity in anyone or anything which can potentially be taken away from us, that becomes a liability!!! If we place our identity in a job or position and we lose either, then we lose our identity. We need to place our identity in something which can never ever be taken away from us. "I am crucified with Christ: nevertheless I live; yet not I, but Christ liveth in me: and the life which I now live in the flesh I live by the faith of the Son of God, who loved me, and gave himself for me" (Galatians 2:20).
---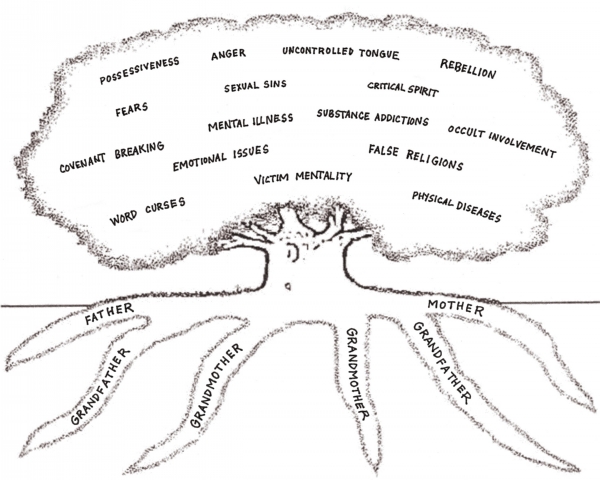 The evil fruit on an evil tree is an illustration for dealing with generational curses. Generational curses are negative life traits which are inherited from our forefathers. The Good News is that Jesus became a curse for us that we might be set free from generational curses. "Christ hath redeemed us from the curse of the law, being made a curse for us: for it is written, Cursed is every one that hangeth on a tree" (Galatians 3:13). https://www.wholeperson-counseling.org/evil-t/evil-t.html
---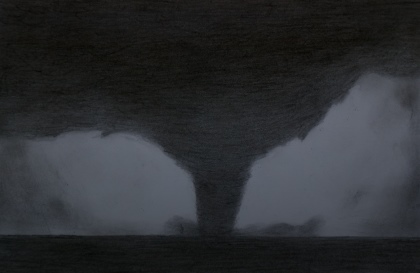 What does a drawing of a black tornado represent??? When a tornado comes, we should find shelter in a very low spot, possibly lying down on our faces. When the fears of destruction come into our lives, we need to humble ourselves (make ourselves lowly) and pray. "If my people, which are called by my name, shall humble themselves, and pray, and seek my face, and turn from their wicked ways; then will I hear from heaven, and will forgive their sin, and will heal their land" (II Chronicles 7:14). https://www.wholeperson-counseling.org/fear/sum_fears.html
---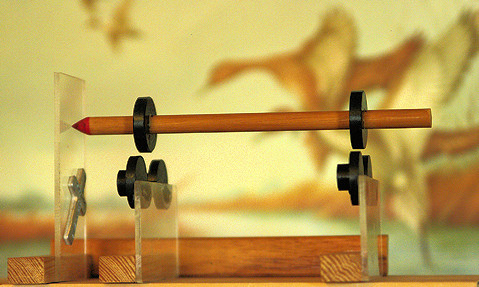 An anti-gravity toy can illustrate rising above the problems that we face? The burdens and temptations of this world pull us down like gravity. We need something stronger to lift us up and point us in the right direction. The grace of God working in the Believer can lift the Believer up and enable him to live above the cares of this life and also point him in the right direction. "For it is God which worketh in you both to will and to do of his good pleasure" (Philippians 2:13).
https://www.wholeperson-counseling.org/grace/grace_menu.html
---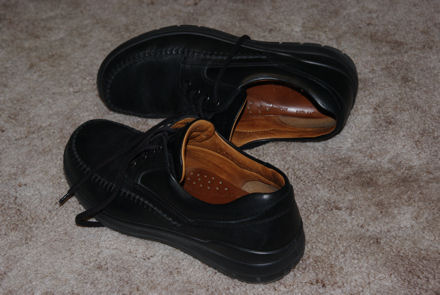 Shoes protect our feet, but in Biblical times it would not be uncommon for only free men to wear shoes. Servants did not wear shoes. When God told Moses to take off his shoes, it meant that Moses was to yield himself as a servant of God. When the kinsman of Boaz took off his shoe, it meant that he was yielding rights to the property and to Ruth. When the father put shoes upon his son, the prodigal, it meant that the father was accepting him back as his own son. https://www.wholeperson-counseling.org/authority/yielding_rights.html
---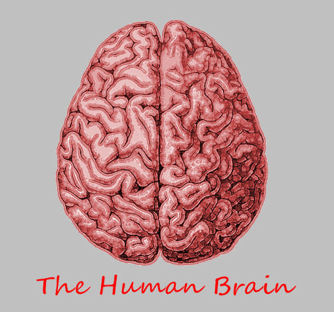 God made the two sides of the brain to work in synergy. According to what I have studied about the brain, each half is to mirror the other if everything is working properly. The left half sees the details which make up the big picture and the right half sees the big picture made up of the details. If the brain is out of synergy, it doesn't function correctly. The big question is, "What can bring our brains into synergy???" Synergy is found by memorizing and meditating on the Word of God. Paul wrote, "Finally, brethren, whatsoever things are true, whatsoever things are honest, whatsoever things are just, whatsoever things are pure, whatsoever things are lovely, whatsoever things are of good report; if there be any virtue, and if there be any praise, think on these things" (Philippians 4:8). https://www.wholeperson-counseling.org/freedom/brain_synergy.html
---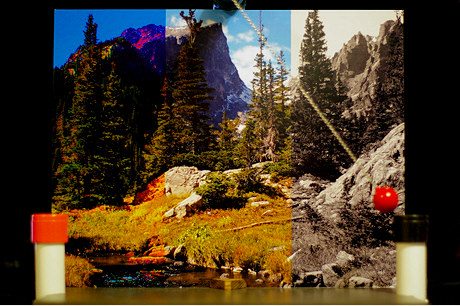 A metal ball swinging between too opposite poles can illustrate mental and emotional instability. How does one stop the swinging back and forth between the two poles and bring stability to the metal ball? One can place a large magnet in the middle which will bring the ball to the center. When an we find our identity in Jesus, we also find stability. "That we henceforth be no more children, tossed to and fro, and carried about with every wind of doctrine, by the sleight of men, and cunning craftiness, whereby they lie in wait to deceive" (Ephesians 4:14).


---
A diamond can easily illustrate meditation on the Word of God. Meditation is like holding up a diamond to the light to view the beauty of each facet. We are to hold the Word up to the light of the Holy Spirit and see the truth found in each verse. "This book of the law shall not depart out of thy mouth; but thou shalt meditate therein day and night, that thou mayest observe to do according to all that is written therein: for then thou shalt make thy way prosperous, and then thou shalt have good success." https://www.wholeperson-counseling.org/ministry/preparation_success.html
---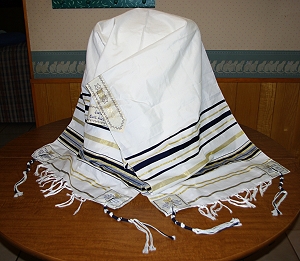 Ungodly or unhealthy soul ties are relations which drain the life our of us. "And as for thy nativity, in the day thou wast born thy navel was not cut, neither wast thou washed in water to supple thee; thou wast not salted at all, nor swaddled at all" (Ezekiel 16:4). When the woman with the issue touched the hem of the garment (tallit / prayer shaw) of Jesus, she was immediately healed. Why? Spiritually she touched the righteousness of Jesus. When we clothe ourselves with righteousness found in Jesus, we can also declare that the old, unhealthy, soul ties are broken. https://www.wholeperson-counseling.org/id/umbilical_cord.html
---
| | | |
| --- | --- | --- |
| | | |
Did you know that there is a salt covenant in Scripture??? In the New Testament, Jesus speaks of us being like salt. "Ye are the salt of the earth: but if the salt have lost his savour, wherewith shall it be salted? it is thenceforth good for nothing, but to be cast out, and to be trodden under foot of men" (Matthew 5:13). Elsewhere, salt is connected to GRACE. When we lose grace in fellowship with others, they will cast us out and step on us. https://www.wholeperson-counseling.org/grace/salt_covenant.html
---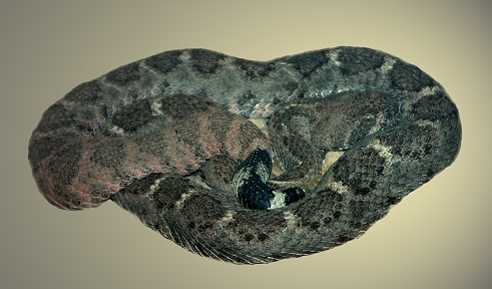 Seeing a rattlesnake in the boat with you, but not realizing it is a poisonous snake, can be dangerous and even deadly. When we come to believe a lie as being the truth, it can also be deadly. However, we are to discover the lies and replace them with the truth of God's Word. "(For the weapons of our warfare are not carnal, but mighty through God to the pulling down of strong holds;) Casting down imaginations, and every high thing that exalteth itself against the knowledge of God, and bringing into captivity every thought to the obedience of Christ" (II Corinthians 10:4-5). https://www.wholeperson-counseling.org/lies/snake_boat.html
---
~~~The End~~~


Visit

Whole Person Counseling

Menu for many more illustrations.